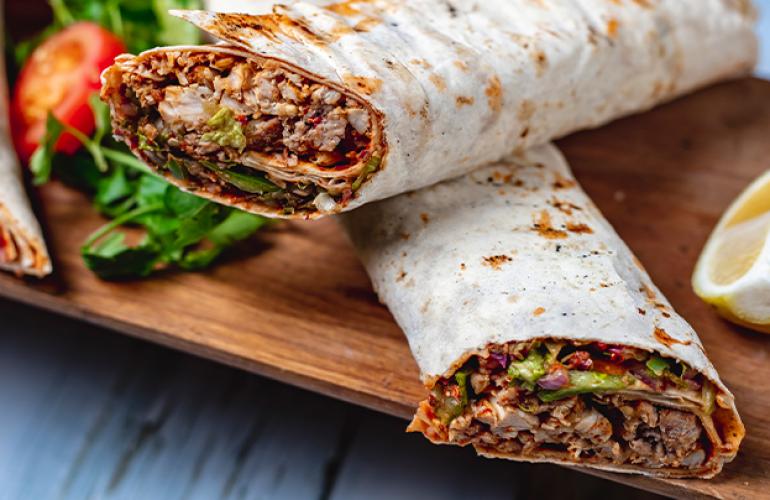 How To Make Chicken Shawarma?
Chicken Shawarma is a great appetizer for all times. It is prepared with grilled meat wrapped in pita bread, various sauces, and fresh vegetables. Everyone loves to have chicken shawarma again and again. If you want to taste delicious and mouth-watering chicken shawarma, visit our tea stall today and have it along with a cup of tea and other favorite stuff. You can also place an online order for it and get it delivered to your doorstep. We also give takeaway orders. Let's see how our staff make Chicken Shawarma.
Ingredients:
1 kg thinly sliced chicken breast,
1/2 cup lemon juice,
1/2 to 1 teaspoon oregano powder (or thyme),
1 teaspoon paprika,
1/2 teaspoon ginger powder (optional),
2 tablespoons tomato sauce,
4 tablespoons yogurt,
3 tablespoons white vinegar,
8 minced garlic cloves,
2 tablespoons vegetable oil and
1 tablespoon salt.
Chicken Shawarma Preparation Steps:
●Our staff chop the cabbage, puts it in a bowl, add salt, and mix. They cut cucumbers into strips and tomatoes into small thin slices,
●Next, they prepare the sauce. They mix mayonnaise with ketchup in a small container and add ground black pepper to your taste.
●They rub the chicken fillet with salt and pepper. Furthermore, they heat a frying pan with vegetable oil to transfer the fillets. Fry on both sides until tender, and cover the frying pan with a lid when frying meat.
●When the main preparations are prepared, they begin to spread the filling on a sheet of pita bread. After putting the sauce in the middle of the leaf, they lay out the chopped vegetables: cabbage, cucumbers, tomatoes.
●They add the chicken pieces and pour the sauce over them generously.
At last, they wrap the filling in pita bread and roll the shawarma as tightly as possible with an envelope. After that, you can eat Chicken Shawarma with great pleasure.