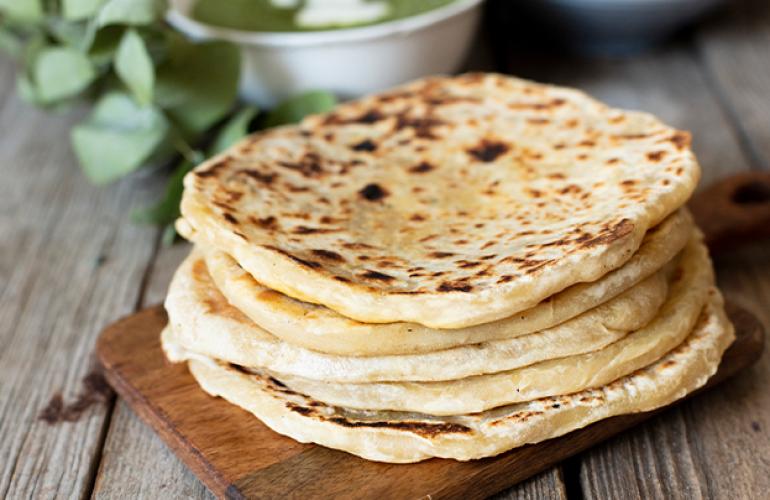 10 Types Of Chapatis
Chapatis are a traditional staple food item in India, Nepal, Bangladesh, Pakistan, Sri Lanka, East Africa, and the Caribbean. They are made from a special whole-grain flour called atta, mixed with water, vegetable oil, and salt. From the resulting dough, flat cakes are rolled out, which are then fried in a dry,hot flat pan,In most parts of the Indian Subcontinent, a distinction is made between chapati and other similar tortillas such as roti, paratha, kulcha, puri or naan due to the different cooking techniques, texture and use of different types of flour. Let's have a look at ten types of chapatis.
Aloo Paratha
These chapatis have potato filling inside them. Everyone loves them in India and elsewhere in the world. They are pretty spicy and delicious. You can eat it alone or with curd, vegetables, sauces, etc. They are ideal for breakfast or light food requirements.
Gobhi Paratha
Gobhi paratha is a great appetizer stuffed with flavored cauliflower and vegetables. People in North India are pretty crazy about it.
Onion Paratha
Onion Paratha is quite popular among people of all ages. It is filled with piquant onions, spicy green chilies, and savory spices. Many people eat it as breakfast across India.
Paneer Paratha
It has grated cottage cheese and spice powders. Due to its fantastic taste, it is pretty popular among many people. You can have it during lunch or dinner. Many people like to eat it for breakfast.
Thalipeeth
It contains rice, wheat, cumin seeds, roasted tapioca, Rajgira,coriander seeds. It is quite popular in Maharashtra.
Chhole Bhature
It is quite popular among people of all age groups because of its spicy flavor and green ingredients. Many people use it for breakfast.
Phulka
People who prefer simple and non-spicy food are crazy about it because of its dry ingredients. Everyone can consume such chapatis.
Naan
It is a special chapati that includes butter, maida, salt, ghee, curd, sugar, and dry yeast. It is served hot with vegetables and salads. Eating 2-3 nans will satisfy your hunger fully because of its heavy ingredient.
Kulcha
It is quite spicy and loved by the young generation very much. It includes coriander leaves, garam masala, paneer, milk, curd, ghee, baking soda,sugar,salt,and maida.You should have this food item in limited numbers occasionally as the consumption of more kulcha can lead to gastronomic problems.
Tandoori Rooti
It is a popular roti in India and is easily available in hotels and restaurants. You can eat tandoori roti with vegetables, chicken, mutton, salads, and other food items and feel good.
Do you want to eat all these rotis in Qatar? Visit our tea shop today and have it. Amazing taste and superior ingredients. You can also have these ratios delivered to your doorstep by placing your orders online.