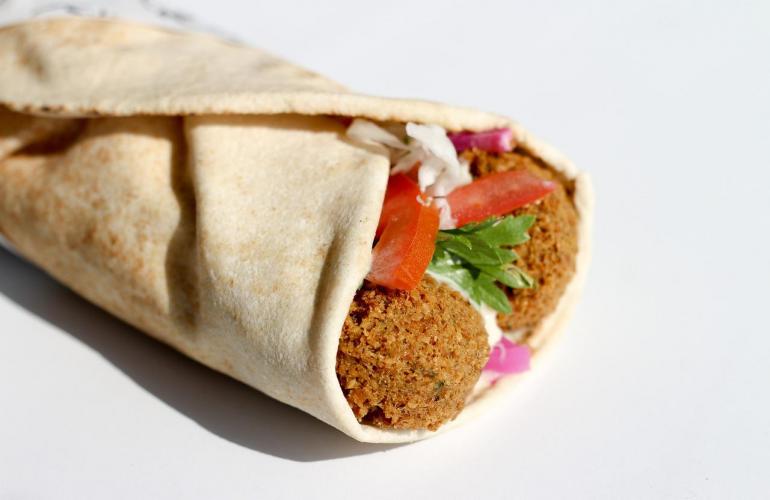 Why Is The Falafel Sandwich Famous In Qatar?
In recent years, falafel has become wildly popular in Qatar. It has even been included in the menu of many restaurants and coffee shops, including ours. Moreover, burgers with falafel instead of meat patties perfectly replenish the protein reserve in the vegetarian menu.
In simple words, falafel refers to deep-fried balls made from the flour of leguminous plants, in particular chickpeas, known as lamb peas, with the addition of spices. Sometimes the falafel recipe includes chopped beans.
Falafel Cooking Method: It's simple
Our staff pre-soak the beans in cold water, boil until tender and then puree. If desired, they add other ingredients to the main recipe, for example, bulgur. They also add aromatic spices and spices. As a rule, they use salt, parsley, coriander greens (and their seeds), white onions, garlic, various peppers, cumin seeds (cumin), turmeric, cardamom. Finally, deep-fry the falafel until golden and crisp. Alternative preparation uses a ready-made dry mixture to form balls mixed with water.
Falafel: Eat it with delicious fast food!
Traditionally, hearty and delicious falafel is served in a special flatbread made of unleavened dough, called pita, with hummus sauce, which is also made from chickpeas and thin (a sauce made from ground sesame seeds).
Both meat-eaters and vegetarians can enjoy a pita filled with vegetables and falafel. The dish has also become popular at street food festivals.
Visit our tea stalls today and enjoy delicious 😋 falafel along with other food items.
Additional benefits —
One serving of falafel per 100 grams contains about 325 calories. It includes 30% carbohydrates, 15% protein, and 35% water. The rest of the volume is taken up by fats, vitamins, and minerals. Even though chickpeas – the main ingredient of falafel-are one of the healthiest foods with zero fat content and no cholesterol, almost all falafel recipes include roasting it. In other words, this dish absorbs as much oil and fat as it can. But if you are particularly concerned about healthy eating, falafel can be made healthier. To do this, instead of the usual roasting, it can be baked without using oil.
Instead of meat—A must-have food for Vegetarians
Our vegetarian menu offers several types of falafels. It's even called a vegan cutlet used in burgers and sandwiches. Falafel was used as a substitute for meat in ancient times when the inhabitants of the Middle East had to follow a special diet in honor of religious holidays. It is also almost the only alternative to meat street food like shawarma and hot dogs.
A Healthy Snack for everyone.
A standard serving of three falafel balls can provide more than a quarter of your daily fiber requirement. In addition, legumes like chickpeas can improve the function of our blood vessels. This makes falafel potentially a good way to reduce the risk of heart disease, especially if the fat content remains low during cooking.
Falafel is rich in vegetable protein, about 2 grams per ball, making it a healthy substitute for high-cholesterol meat. A standard serving of falafel contains about 350 calories. Combined with salad and pita bread, this is a low-calorie, healthy and satisfying meal.
So, what are you waiting for? Visit our tea stalls today and taste falafel. We also serve takeaway and online orders for food.