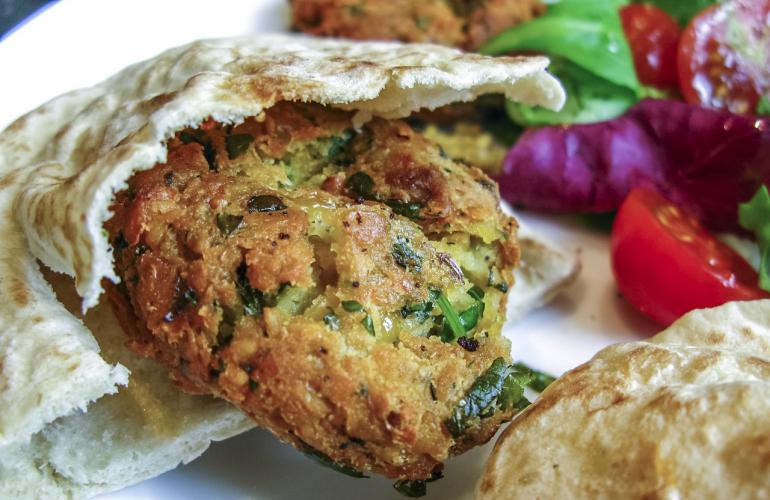 Best Falafel Sandwich
We prepare and sell the best falafel sandwich. It is said to have originated in Egypt when Christians wanted to have an alternative to meat during periods of fasting. Falafel Sandwich usually has chickpeas (garbanzo beans), fava beans (broad beans), etc. It is made by soaking dried legumes, grinding them, and mixing them with herbs and spices. Then they are molded into balls and deep-fried.
The dish is easy to prepare but requires advanced preparation, especially when using the classic falafel sandwich recipe, the main ingredient of which is chickpeas. It is washed several times and then soaked for 12-16 hours (1/3) in cold water, rinsing every 4 hours. If you use peas, it is enough to leave it in water for 8 hours. For beans, you need at least 1.5 days, and for lentils - 24 hours. The proportions of legumes and liquid are the same. It has several spices such as Zira, turmeric, pepper mixture, coriander. cinnamon, allspice, and black pepper.
The best falafel sandwich prepared by our staff has easily digestible protein in its composition. It helps adherents of a vegetarian diet restore the protein-lipid balance, maintain an active lifestyle and help preserve youth and stimulate the production of antibodies and hormones.
Falafel sandwich Benefits:
● It has an immunological and anti-inflammatory effect.
● Stabilizes the work of the cardiovascular system, prevents the formation of sclerotic plaques.
● Accelerates growth in children and tissue regeneration in all categories of the population.
● Increases efficiency, enhances concentration, and the ability to concentrate.
● It prevents the development of anemia and helps to avoid weight loss.
● Stops the development of the pathology of the nervous system.
● Normalizes the work of the visual organs.
● Reduces blood sugar levels and supports the pancreas.
● Improves the condition of the skin, nails, and teeth.