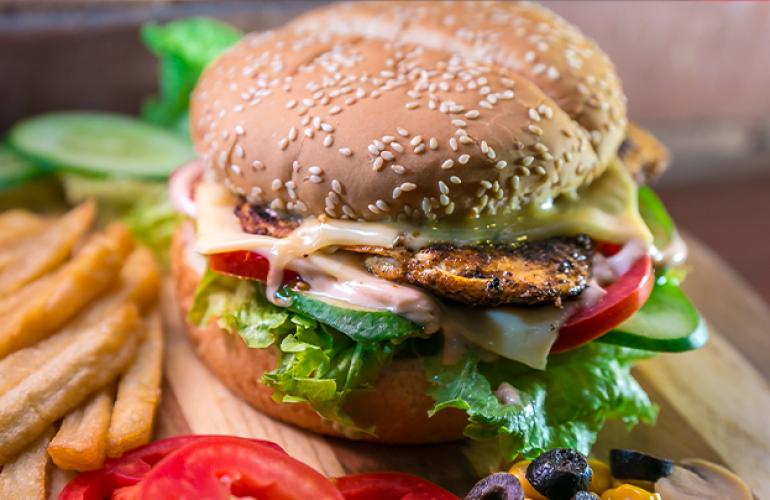 Mini Chicken Burgers
Mini Chicken burgers are one of the most popular and favorite dishes on our table. Both adults and children love to have them. They are suitable for lunch, for dinner, and a breakfast table. Visit Karak Stop today to taste mini chicken burgers or place your order online. You will get your order delivered to your doorstep.
● Excellent Bread
We use fresh and high-quality bread to make mini chicken burgers. We purchase bread from reliable vendors and manufacturers.
● Excellent Foundation
We take minced chicken and pass it through a large grate of a meat grinder. Coldwater is added for juiciness, and minced meat is kneaded. Finally, our staff fries the burger on a grill or pan with medium roasting.
● Filling Vegetables
To make the burger taste more recognizable, we add onion, cucumbers, lettuce or romaine, tomatoes, avocado slices. We believe after tasting one mini burger prepared by us, you will love to have 2nd and 3rd as well.
● Sauce
We use mustard, ketchup, and mayonnaise in mini chicken burgers to make burgers tastier and healthier. Mayonnaise with mustard or mustard alone is usually spread over hot buns.
A well-cooked mini chicken burger is a delicious food item few people would object to.
How Many Mini Burgers Should I Eat?
You can quickly eat 2-3 burgers, and tea served by us. Sometimes, customers demand more mini chicken burgers because they fail to control their desire after tasting delicious stuff prepared by us. Your satisfaction is our priority. We prepare burgers on demand, use fresh ingredients and follow the due procedure of burger preparation. We recommend you to visit our shop whenever you need to taste chicken burgers at affordable prices. Eat as many burgers as you can and take some burgers for friends and family members