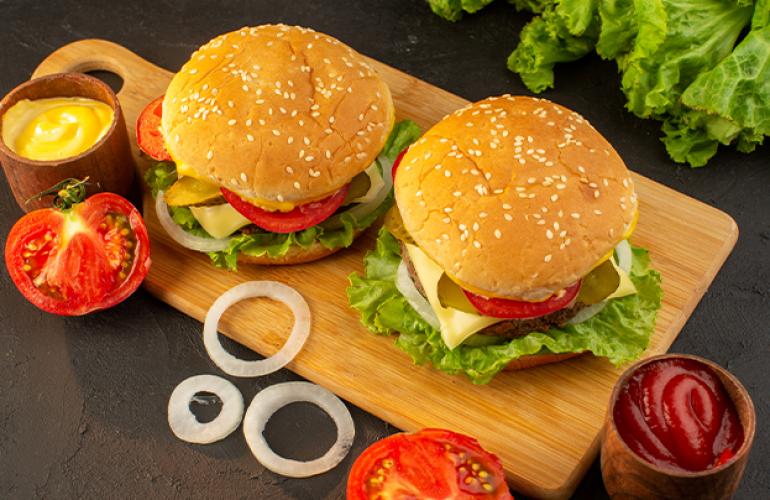 How Should I Serve Chicken Burgers?
Everyone is crazy about chicken burgers. They are delicious and mouth-watering. People from all age groups never hesitate to order more than one chicken burger if it makes people feel delighted. So come to our tea shop at any time and have chicken burgers with other foodstuffs, a cup of your favorite tea,or coffee.
We promise you would love to visit our tea shop time and again for parties, corporate meetings with co-workers and seniors, spend your free time with friends and family members, etc. If you cannot visit our tea shop for any reason, place your order online and get the purchased food at your doorstep in a few minutes.
Fresh ingredients, standard burger preparation, and quick delivery will let you have delicious chicken burgers without worrying about unnecessary things. We serve chicken burgers in different methods as per your instructions.
● Standard Chicken Burger (Simple One)
We have observed that many of our customers visit regularly and like to place orders for standard chicken burgers. Our staff uses high-quality bread, fresh vegetables, mayonnaise, sauces, etc., to make delicious chicken burgers that give a wow "feeling" to all customers. Even our standard chicken burger will delight you as it is filled with sufficient stuffing.
● Chicken Burger With Extra Cheese And Chicken
Many people living in Qatar lead a king-size life, and they don't want to compromise when it comes to eating out in restaurants and hotels. We have chicken burgers with extra cheese and chicken pieces that will give you complete satisfaction. Many times, it happens that after consuming one chicken burger with extra cheese and chicken pieces, customers demand an extra chicken burger and purchase two or three chicken burgers for family members and office workers. The credit of the popularity of our chicken burgers goes to our staff, who never hesitate to experiment with ingredients and let people have chicken burgers that are not available elsewhere.
● Chicken Burgers With A Cup of Tea And Coffee
We have lots of customers who want to have a cup of tea or coffee and some delicious edible items. We offer them chicken burgers with a cup of tea or coffee. You can have this combo and feel special all day long. This combo is also ideal for you if you want to throw incredible parties to your friends and family members within a limited budget.
● Chicken Burgers With Extra Vegetables
We know there are many people who want to have more and more green vegetables to keep their body in good condition and stay fit and fine. For such people, offering chicken burgers with extra vegetables that give them a wow feeling. Generally, we use onion, tomato, lettuce, etc. Increasing vegetable stuffing in chicken burgers makes them more mouth-watering.
Visit our tea shop today and order as many chicken burgers as you want. We are always happy to serve chicken burgers in multiple ways and make you feel special.