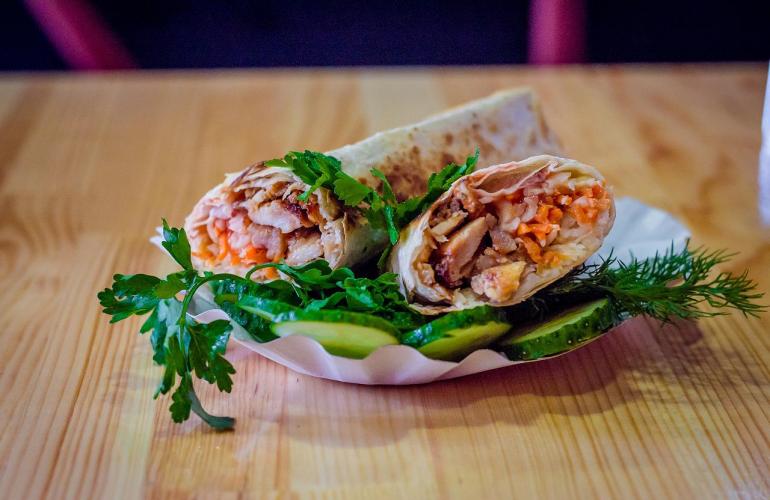 Chicken Shawarma
Chicken 🐔 Shawarma is a mouth-watering food item quite popular in Qatar and other Middle East countries.You can have it for breakfast, office dinner,during traveling, and at any time.Our staff prepares high-quality and delicious Chicken Shawarma at your request and serves it to you. So visit our tea shop today and have as much chicken Shawarma as possible. If you can't see the tea shop due to your busy life, place your order online. Our staff will prepare the stuff using the press ingredient and ensure its delivery at the specified address in the shortest possible time.
Shawarma with chicken:Ingredients:
● Chicken fillet, 300 g,
● Sunflower oil, 2 tbsp. l,
● Ground black pepper to taste
● Salt, two pinches
● Cinnamon, pinch
● Homemade mayonnaise, 2 tbsp. l.
● Garlic, ½ clove
● Dill, ½ bunch
● Armenian lavash,
● Cabbage, 100 g
● Sweet pepper, 100 g
● Tomato,one pc
● Cucumber, one-piece
● Lettuce leaves
How do we prepare the best Chicken 🐔 Shawarma?
● Meat is washed, cleaned of films, and cut into large pieces;
● Vegetables are washed, cabbage is shredded into thin strips, cucumber is peeled, remove the tips and cut into thin strips. Next, we peel the tomato, remove the liquid part and the seeds, and cut it into half rings.
● We mix mayonnaise, sour cream, and yogurt in a bowl to prepare the sauce and enter the garlic passed through the press, salt, and pepper. We mix the dressing and use ketchup,
● Chicken pieces are salted, peppered, and fried in a frying pan in preheated vegetable oil until tender,
● We spread the pita bread on a flat straight surface and lubricate it with sauce, retreating from the edge a couple of centimeters. Put the cabbage in the center, then cucumbers and tomatoes. On the vegetables, we put pieces of fried meat. To make the dish juicy, cover the meat with the remaining sauce;
● We fold the base with a cover. The edges must be closed, and products do not fall out. So, we fold the Shawarma as tightly as possible,
● We fry the shawarma in a dry pan until golden brown on both sides.
Visit our tea shop today and taste excellent chicken Shawarma now.