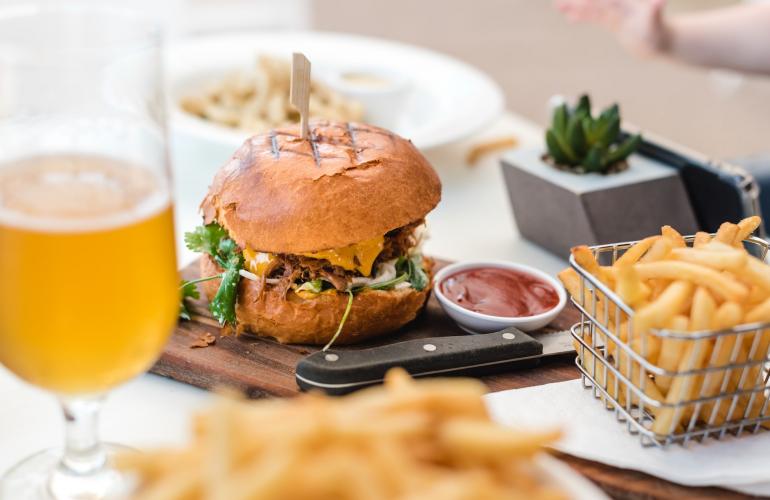 Why Our Beef Burgers Are Best?

A beef burger is everyone's favorite.Individuals visit our tea stall for beef burgers and other food items. A beef burger is not only tasty but also gives satisfaction to individuals. Many customers who have beef burgers from our cooks ask for more. Look at some reasons why our beef burger is famous among a large number of people.
● Excellent Ingredients
We use fresh ingredients to make beef burgers. We purchase fresh ingredients from reliable vendors depending on daily sales and customer demand. Our beef burger includes beef, bun, slices of raw onion, lettuce, mayonnaise, etc. Our food cooking experts have formal education and several years of experience working in the food industry. They follow the standard procedure to make beef burgers and serve them fresh to customers. As a result, people always have fresh beef burgers in our tea stalls.
● Mouth Watering Taste
Many customers visit our tea stall regularly and have a beef burger and other food items because of its excellent taste. We sell the best beef burger in Qatar. Fantastic flavor and ingredients make people go crazy about the beef burgers made by our food experts.
● Dine-in or Take-Away Orders
You can have dine-in or takeaway orders. We are ready to make and sell the required number of beef burgers. Visit our website to place orders for birthday parties, home celebrations, outdoor events, etc. We will make beef burgers and serve them hot.
● Excellent for Hangout With Friends
Individuals working in the corporate sector and other industries in Qatar love to hang out with friends in their free time and spend time together. So visit our tea stall today and order any number of beef burgers you want to have. We are always happy to make and serve beef burgers hot to you & your friends.