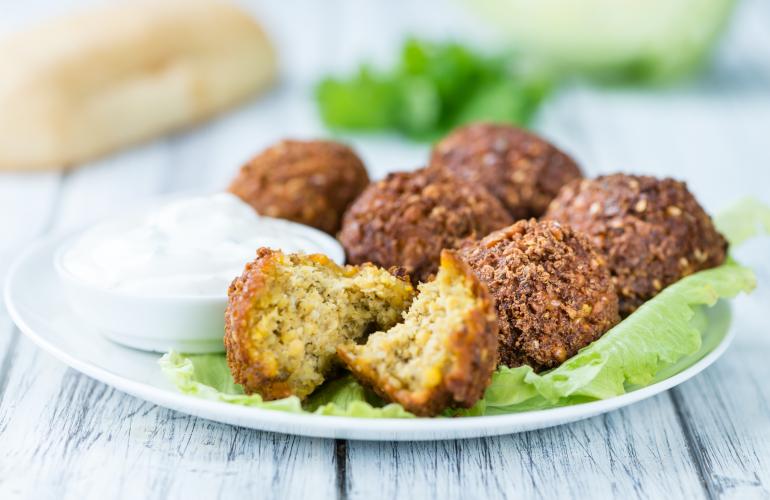 Falafel Sandwich Qatar - The Perfect Snack For A Healthy Meal On-The-Go

If you're looking for a healthy and nutritious snack on the go,look no further than the falafel sandwiches we offer. We make this dish using chickpeas that are ground into a paste and formed into small patties.Then, we serve it in its original form, in a sandwich or deep-fried. In this post, we'll outline the main falafel ingredients, provide nutritional information, and show how our experts make falafel healthier.
Falafel Ingredients
Falafel is a delicious and nutritious snack that can be enjoyed on the go. Made of ground chickpeas and fava beans, falafel is a good source of fiber and protein. It's also a good source of vitamins B6 and magnesium, which help to support energy levels. Making falafel is easy - we just mix all the ingredients, shape them into balls, and fry them until golden brown. We have added falafel sandwiches to your list of go-to snacks for on-the-go meals that are healthy and delicious!
Nutritional value of Falafel
Falafel sandwiches are low-calorie, nutrient-rich, and packed with protein and fiber. In addition, they contain vitamins B6 and C, which are essential for health. To make the healthiest falafel sandwich possible, we combine chickpeas with spices and breadcrumbs to form patties. Then, we fry them until they're golden brown and crispy. We ensure to include falafel as part of your regular meal plan to reach your fitness goals. It's a great way to lose weight and feel good about eating!
Falafel Is A Good Source of Plant-Based Protein
Falafel, made by our workers, is a delicious and healthy plant-based protein that can be enjoyed as a snack or part of a meal. It is also high in fiber and healthy fats, making it an excellent choice for those looking to improve their heart health. A falafel sandwich makes the perfect lunchtime snack!
Falafel May Help You Feel Full For Longer
Falafel is a delicious and health-conscious food that can help you to stay full for longer. It is a high-protein food with all nine essential amino acids, making it an excellent protein source. Additionally, falafel is also a good source of fiber, which helps to keep your stomach content for longer. Apart from being healthy and nutritious, falafel is also low in fat and has no unhealthy additives - perfect if you're looking for an on-the-go meal that doesn't contain calories or carbs! So keep our falafel sandwich in Qatar as part of your diet routine, as it will make you feel energized and look great too!
How Do We Make Falafel Healthier For All?
Falafel is a delicious, healthy snack that can be enjoyed at any time of the day. Whether you're in the mood for a quick snack or a full-fledged meal, falafel can be a perfect choice. To make falafel healthier, we take the following actions:
● Use ground chickpeas instead of processed ingredients.
● Bake falafel instead of frying it, which reduces saturated fat and cholesterol levels.
● Make falafel into different shapes and flavors, and experiment until you find your favorite recipe!
● Store falafel in an airtight container in the refrigerator for maximum freshness.
Our Falafel Sandwiches Are A Healthy Way To Eat Lunch
Our Falafel sandwiches are a great way to eat whenever you want. They're also a good snack when you're on the go and need something quick and easy. Plus, falafel sandwiches are low in calories so they can be eaten as part of a healthy diet or as a cheat day.
Conclusion
Falafel sandwiches made by us are a delicious and healthy snack that can be enjoyed at any time of the day. It is an excellent option for people looking for a nutritious and filling meal. Visit our tea shop today and order as many falafels as you want.