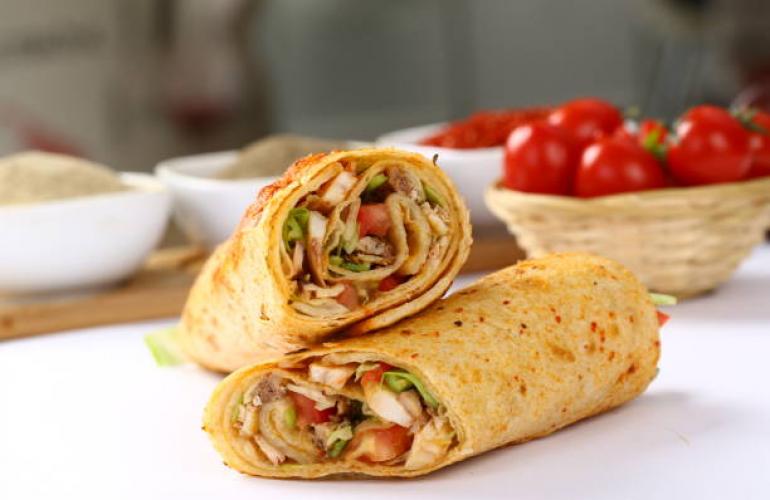 Best Chicken Shawarma In Qatar: Why You Should Be Eating This Dish?
Chicken Shawarma is quite famous in Qatar, UAE, Saudi Arabia, North America, and Europe. It is a dish that originates from the Middle East and is made up of meat that has been slow-cooked on a spit. The meat is then shaved off and served with various accompaniments such as flatbread, veggies, and sauces. Traditionally, Shawarma used to be served on a plate (no pita bread) with lettuce, tomatoes, hummus, pickles, onions, tahini sauce, and garlic sauce as side dishes.
Why Should You Eat Our Best Chicken Shawarma?
Our food outlet is quite famous for offering Chicken Shawarma. First, it is delicious and mouth-watering. The combination of seasoned meat with fresh veggies and sauces makes for a flavor profile that is hard to beat. It is a hearty and healthy meal for those who love to have fast food. The slow cooking process allows the fat to render out of the meat, making it a leaner option than other grilled meats. We usually serve it with vegetables and salads, making you feel satisfied.
Origin Of Chicken Shawarma
The Shawarma dish is derived from the Doner Kebab, a famous Turkish dish. The Doner Kebab is said to have originated in Turkey during the Ottoman Empire. It is made by cooking meat (lamb or chicken) on a rotating spit. The meat is then thinly sliced and served on a plate with some bread and vegetables. The Shawarma dish is believed to have originated in Lebanon, where it is commonly consumed as street food.
Health Benefits of The Best Chicken Shawarma In Qatar
Chicken shawarma is a healthy dish packed with protein and other nutrients. It is low in fat and calories, making it an ideal meal for those watching their weight. The dish is also high in iron, which is essential for maintaining a healthy blood count.
How Do We Prepare Chicken Shawarma?
We use different methods to prepare chicken shawarma. We commonly marinate the chicken in a blend of spices overnight, then simmer it on a spit. It can also be marinated for a few hours or even 30 minutes- all depending on the urgency of orders for chicken shawarma. We make sure that the chicken is well-coated in the spice mixture. Once it is ready, we serve it to customers with pita bread, tahini sauce, and chopped vegetables like tomatoes and cucumbers. Sometimes, we do it as a wrap, with all ingredients rolled up into one delicious package.
We have 4 Popular Recipes for Chicken Shawarma:
● Traditional Chicken Shawarma
We make this classic recipe with marinated chicken simmered on a rotisserie and then serve it with pita bread, tahini sauce, and chopped vegetables.
● Spicy Chicken Shawarma (Highly Popular Among Young Individuals)
If you like your food with a kick, try this recipe with spicy chicken, harissa sauce, and fresh herbs.
●Simple Chicken Shawarma
This recipe is perfect for those who want to enjoy the flavor of shawarma without all the fuss. We make it with just a few ingredients, including chicken, pita bread, and tzatziki sauce.
● Grilled Chicken Shawarma (Hot selling Food)
For a summertime twist on the classic dish, try grilling your chicken shawarma instead of cooking it on a rotisserie. Instead, we serve it with fresh vegetables and hummus for a complete meal.
So, visit our food stall today and enjoy the best chicken Shawarma In Qatar.